We love any excuse to spend time with family and friends to enjoy a great meal together. In this article, we're bringing you our most delicious Spring brunch menu ideas. Each comes with a make-ahead version so you spend less time in the kitchen and more time with the ones you love.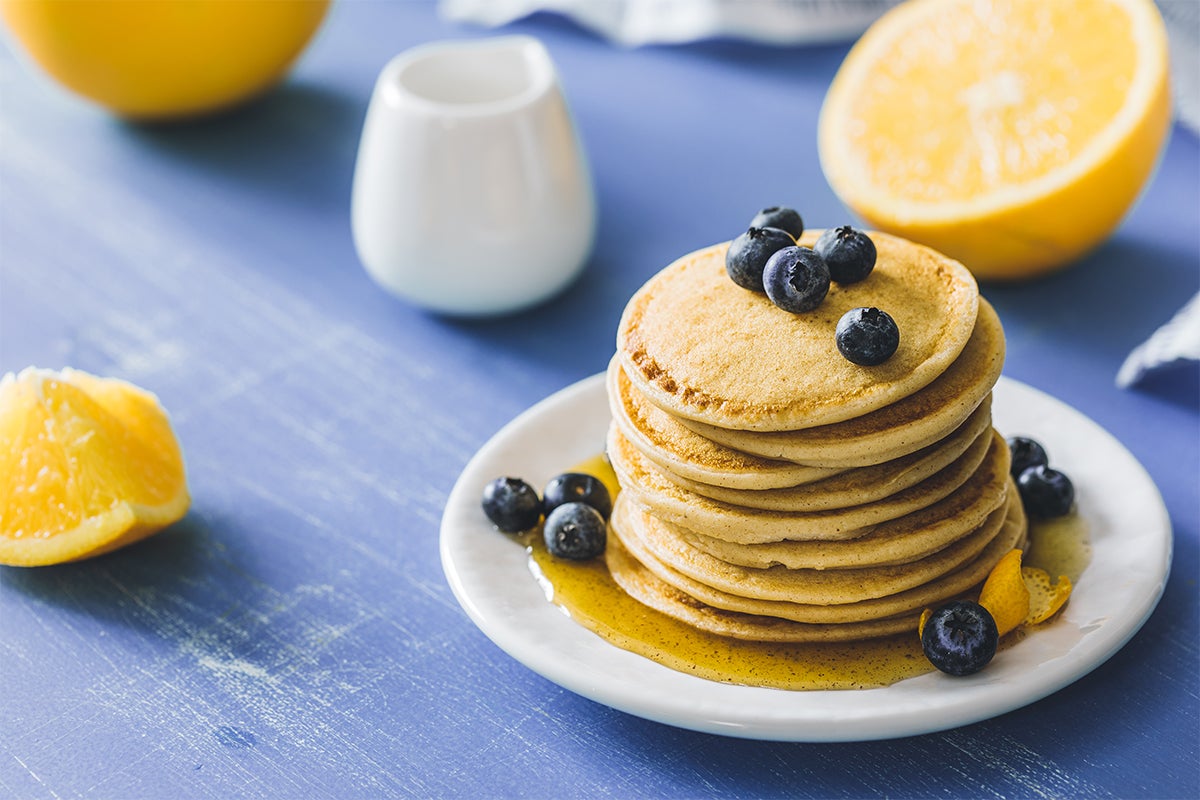 Orange Ricotta Pancakes
To impress your guests, you want to blend savory and sweet like a magician. And no better breakfast staple gets the job done than pancakes.
Our Orange Ricotta Pancakes are lightly sweetened with maple syrup and are in and out of the oven in 15 minutes. It looks as good as it smells, topped with fresh blueberries, butter, and maple cardamom syrup.
If you need ever more fluffy goodness, try these other great breakfast recipes:
Vegetable Mini Frittatas
These yummy Vegetable mini frittatas are perfect for a large muffin pan or those ramekins you've been dying to use. The veggies in this dish add the perfect texture and flavor balance without the hassle of making omelets. Simply prep, bake, and refrigerate for the next day.
If you prefer your eggs fresh from the oven, consider prepping the ingredients the day before then tossing your muffin pan in a preheated oven 10 minutes before serving. Try these other a2 Milk™ baked egg recipes to add variety to your brunch table:
Baked Oatmeal with Cardamom, Pistachio & Rose
After you make this fragrant Baked Oatmeal with Cardamom, Pistachio & Rose, you'll never go back to the plain version again. This recipe is easy to put together last minute or can be made in advance to cut down on day-off prep work.
Pair with this Cardamom rose steamer for a perfect delight, and add these delicious treats to fuel up for any after-brunch walks in the park, window shopping, etc.
Root Vegetable Mash
For the veggie lovers, serve up a platter of Root Vegetable Mash. This homemade dip is robust and refreshing to complement the other sweet dishes at your table. Think hummus, but yummier and more complex-tasting. Serve with za'atar and an assortment of dipping vegetables like celery, cauliflower, carrots.
For even more veggies at the table, add these recipes featuring a2 Milk™ 3.25% Homogenized Milk:
Beverages for Adults & Kids
The spring weather is just warm enough to sit outside and enjoy a nice iced coffee in the sunshine. Our frothy iced latte is the perfect brunch companion. The a2 Milk™ 2% Partly Skimmed Milk in the coffee is the perfect addition of creaminess to complement the rich flavor.
Sip on some fun, fruity drinks, perfect for the new season. Cheers to these tart, kid approved refreshments:
Host the Perfect Brunch
Spring is the perfect season to reconnect with family and friends and sharing a meal creates lasting memories. Try these and other a2 Milk™ recipes your family is sure to love. You can find a2 Milk™ at a grocer near you.