Protein shakes are a perfect snack or meal replacement for anyone at any time. With endless options and recipes to choose from, you can continuously experiment and perfect your shake-making skills. However, there's always one ingredient that stumps a lot of us: protein powder. Which ones are the best quality? Which ones actually taste good? What are all those ingredients? Why are they so expensive? While protein powder can help boost the amount of protein you get in your day, the research and cost alone can make choosing one a pretty daunting process. Our solution? Homemade protein shakes that don't require any protein powder at all! Here, we're sharing how to make your own powderless protein shakes with some of our favourite, simple recipes!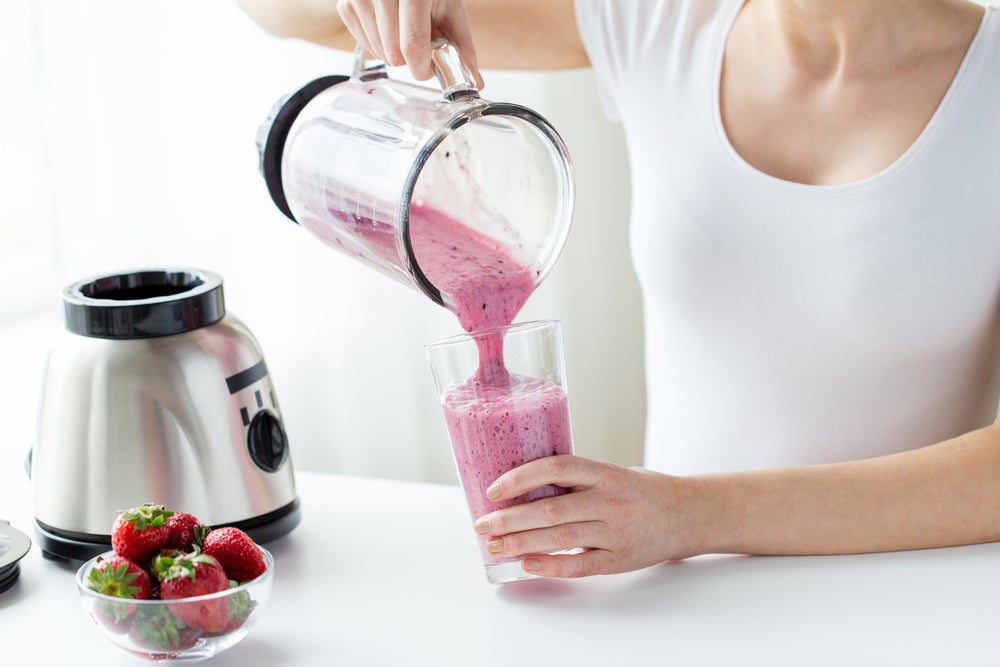 Start with the basics
To really pack your shakes with protein (without the help of powder), you can always rely on a few go-to basics to use as a foundation — starting with a2 Milk™ 2% partly skimmed milk, of course. Some of our other favourite protein shake ingredients include:
- Peanut or almond butter
-Almonds
-Oats
-Pumpkin seeds
For the most part, the above ingredients won't impact the overall taste of your protein shake, just the texture. Once you decide which protein-rich ingredients to use, you can start to add other healthy elements to take it to the next level, like:
-Fresh or frozen fruit
-Spinach or other leafy greens
-Avocado
-Honey
-Cocoa powder
-Immune-boosting ingredients like turmeric, ginger, and cayenne pepper
-And anything else you want to make your shake unique to your preferences!
Protein shake recipes with no protein powder
Now, without further adieu, here are some of our powderless protein shake recipes! Remember: With any of these, you can substitute or add different ingredients as you like to get the ultimate texture and flavor you want.
Peanut Butter & Jelly Protein Shake
Get the taste of this classic favorite with an extra boost of protein!
-1 cup a2 Milk™ 2% partly skimmed milk
-2 tbsp strawberry preserves
-2 tbsp peanut butter
-1 banana
-1/2 cup ice cubes
Blend all ingredients until smooth. Makes 1 serving.
Green Goddess Protein Shake
This recipe doesn't just pack a lot of protein; it's also chock-full of healthy greens to get your daily dose of veggies!
-1 cup a2 Milk™ 2% partly skimmed milk
-2 cups spinach
-1 banana (frozen works best for this recipe)
-1 cup frozen pineapple chunks
-½ small avocado
Combine milk with spinach in a blender and pulse several times just until the spinach is blended well. Add the remaining ingredients and blend until creamy and smooth. Makes 2 servings.
Coffee Protein Breakfast Shake
This go-to favorite of ours combines the best of both worlds: protein and coffee!
-1 cup a2 Milk™ 2% partly skimmed milk
-1 cup of cold coffee (or cold brew!)
-2 tbsp cocoa powder
-½ tsp vanilla extract
-Pinch of cinnamon
-½ cup ice cubes
Blend all ingredients until smooth. Makes 1-2 servings.
Keep the healthy choices going!
Protein shakes can be a very healthy way to fill up, get your nutrients, and build muscle. Want more inspiration for protein shakes featuring your favourite a2 Milk? Explore our library of delicious recipes featuring smoothies, shakes, and much more!